Heart Failure Care Designed for Heart Recovery
More heart failure patients in Kentucky, Louisville and Southern Indiana choose Norton Heart & Vascular Institute Advanced Heart Failure and Recovery Program than any other provider. We provide care designed to help you live your best life with as little time in the hospital as possible.

Same-day appointments for new patients.
Outcomes that exceed national benchmarks.
The latest in advanced heart failure monitoring technology to detect signs of a weakening heart before you feel symptoms.
Heart failure medication management provides monitoring paired with medication that helps the heart pump more blood.
Myocardial Recovery Program designed to rebuild the heart muscle and recover normal heart function.
Ventricular assist device implants for severe cases or for those awaiting a new heart.
Extracorporeal membrane oxygenation (ECMO) support to give your heart a rest and time to heal.
Heart transplant access and ongoing aftercare.
Easy access to your medical records, appointments and communication with your provider through your free MyNortonChart account.
---
Why Choose Norton Heart & Vascular Institute

"When we tell someone who thinks they're dying that we can rebuild their heart — you can imagine the smile that puts on their face. We make sure each patient is on the appropriate pathway, regardless of what they look like, how much money they have and where they live."
---
Heart failure treatments include monitoring your risk of decreased heart function, medication to improve your heart's health, mechanical support and heart transplants.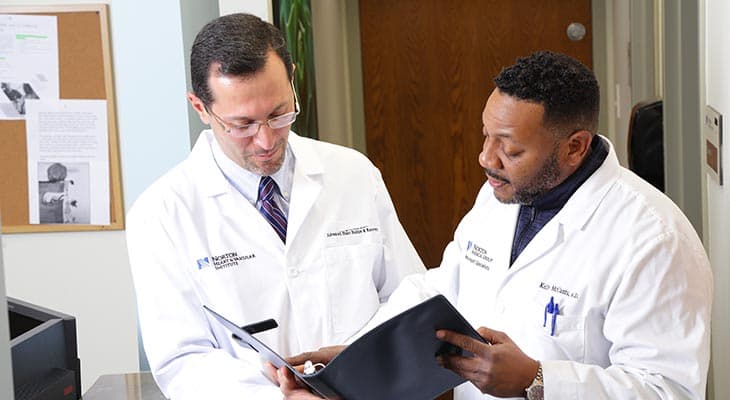 The board-certified and fellowship-trained cardiologists and specially trained advanced practice providers at the Advanced Heart Failure and Recovery Program have the experience and expertise to give you a precise diagnosis and a customized care plan to help you live your best life.
With offices across the Louisville area, you can count on not having to travel too far from home for quality care.